Lolaphilia, perhaps one step too far...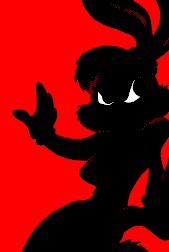 Hey there, fellow furverts!
From the moment I saw her on the bus stop poster, I was smitten.
A gorgeous, well-built toon rabbit with attitude; how could I not be?

Pretty soon there was Lola stuff all over the Internet and in the stores, and much to everyone's surprise, Lola plushies began appearing, first at J.C. Penneys, then at Toys R Us. And they were really nicely done for movie tie-in stuff; the best ones actually gave Lola two distinct breasts.
Being the sick-minded furry I am, I figured I had to do something... special with her. I lucked into one of the larger Lolas at the TRU in Barrie, Ontario, took her home, and began dressing (or UNdressing) her up a little. :) I took her to CF8 for the plush parties where she was something of a hit; once home, I decided to get some good pictures of her to share with my fellow Lolaphiles. These are the first ones, taken to finish off a roll of film; as time goes by I should have some more for you all, especially now that a friend whose mind is as bent as mine has one of his own... and a few interesting ideas for poses...

Enjoy!


| | | |
| --- | --- | --- |
| | 71k | Lola, in the baby outfit I use to get her thru US Customs. |
| | 78k | Lola showing off her piercings. |
| | 78k | Can't wait to get this thing off! |
| | 77k | Same attitude, rear view... |
| | 92k | Modest girl, isn't she? |
| | 96k | Or maybe not. |
| | 75k | Trying out the new spreader bar. |
I know... I can't wait for more either... ;)


---
Lola page and pics by Ron Orr.
'Lola Bunny' used quite without permission of WB.
To have a further look inside this warped mind,
have a look at my home page.


---
Go back to my pictures page


---